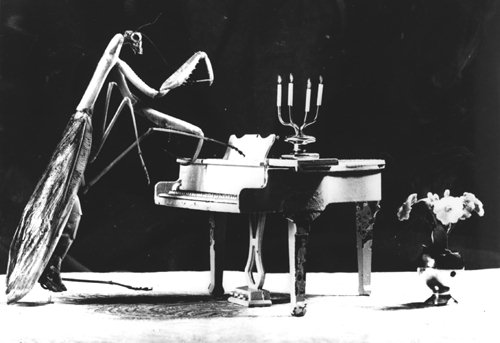 MORTY
THE WORLD FAMOUS PIANO PLAYING PRAYING MANTIS

---
HMorty The World Famous piano playing praying mantis has dazzled the audiences for years! He's played Carnegie, Broadway, and every other major auditorium in the world. His amazing ability to hammer the piano is one that critics can't argue with. Morty is by far the best piano playing praying mantis the world has ever seen.
But where did he go? For almost two years Morty has not been in the spotlight. Some thought that he had faked his death again, but we assure you those are only internet rumors. Morty is alive and well and he's BACK! It turns out that Morty was in a creative slump and just needed a break.
Morty has been quite the busy mantis. Over the 2 year gap period Morty has successfully finished five brand new albums: RAG TIME MORTY, MORTY LIVE VOL 6, MEET THE 80's, MORTY REVIVED (his debut gospel album), and his Platinum MORTY GONE WILD. His music has stunned many generations, and now smany more to come.
Morty, being the international mantis of adventure, not only composed five brand new albums but had several more adventures. Morty was asked to work part time for the CIA in a special op's division. Morty also was able to visit some of his favorite Hollywood friends such as Tom Hanks and Weezer (rumor is Morty wrote the newest weezer album, but still unconfirmed).
Sadly Morty stumbled on to something that was better left alone. The Freece family (Morty's adopted parents and road managers) finally let Morty take his own routes of fame and stardorm. Morty recently set out to discover his hidden past. With his new Road Manager, WAYNE NEWTON (who at one time was Morty's sworn nemesis, but after a brief reconcile in Toledo, now good friend) set out to unlock history. Sadly Morty found his twin Brother Murry the World NOT SO famous oboe playing praying mantis. Murry who for all these years has lived in the shadow of his twin tried to murder morty. After a court case and brief period of jail time, Murry has been released, but now vowed to the destruction of poor Morty. Morty was able to forgive poor Murry, but to this day Murry's whereabouts are unknown.
In light of the whole Murry contraversy Morty is still at large. Stunning the crowds with his amazing ability to hammer out his claws of talent. Morty has now embarked on a BRAND NEW WORLD TOUR. So check your local listings for the AMAZING MORTY WORLD TOUR!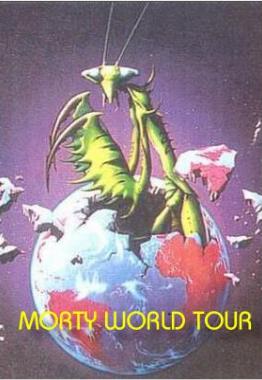 We here at Morty web, have decided to keep you updated on the current Morty projects and exactly what Morty has done in his off time. We've taken the time to place some of the old articles off of Morty's web page, with some brand new material! So thank you for visiting Morty WEB!